Ad blocker interference detected!
Wikia is a free-to-use site that makes money from advertising. We have a modified experience for viewers using ad blockers

Wikia is not accessible if you've made further modifications. Remove the custom ad blocker rule(s) and the page will load as expected.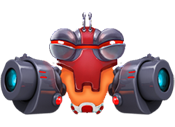 "

"We are Starlinators, the best trained Starlings you'll ever see. You have to be very careful, we might harm you if you get too close!"
Heavy unit. Specialized in destroying enemy defenses.

"



 

— in-game description 
About

This unit can also be crafted by completing its Collection.
The most powerful infantry that can be trained in game at the first Levels but not the most Powerful Infantry Unit even at Level 7. The Level 7 Kamikaze is the most Powerful Infantry Unit that can be trained with a damage of 5500, 2 and Three-Fourths Times the Damage of a Level 7 Starlinator.
Craftable along with the Colossus and Zeppelin.
Easily destroyed by Mortars and Laser Tower.
Short range, easily comes into the range of turrets.
Expensive. Exponential cost increase from level to level.
You get 10 Starlinators for free from Elderby to attack Firebit. They will disappear, even if you don't use them all, this is to prevent abuse from players.
They are recommended for destroying Sniper Tower or Laser Tower (due to starlinator level).
You will need Starbase on level 6 and  7.142.000 to unlock it.
Level 4 and higher Starlinators are significantly faster in speed.
It is good when paired with S-Trike when attacking bases.
Tips
Expansions

To see detailed info of how to unlock each level, visit Troop Level Unlocks
on Laboratory's Page.
| Level | | | | | | | | | | | |
| --- | --- | --- | --- | --- | --- | --- | --- | --- | --- | --- | --- |
| 1 | 7m 30s | 18,600 | 1,200 | 600 | Single Shot | 0.8/Sec | Defenses | Ground | 0.75 | 140 | 20 |
| 2 | 7m 30s | 33,500 | 1.500 | 750 | Single Shot | 0.8/Sec | Defenses | Ground | 0.75 | 140 | 20 |
| 3 | 7m 30s | 50,200 | 1.500 | 900 | Single Shot | 0.8/Sec | Defenses | Ground | 0.75 | 140 | 20 |
| 4 | 7m 30s | 65,100 | 1.800 | 900 | Single Shot | 1/Sec | Defenses | Ground | 1.125 | 140 | 20 |
| 5 | 7m 30s | 83,350 | 1.800 | 1.200 | Single Shot | 1/Sec | Defenses | Ground | 1.125 | 140 | 20 |
| 6 | 7m 30s | 107,150 | 2.000 | 1.500 | Single Shot | 1/Sec | Defenses | Ground | 1.125 | 140 | 20 |
| 7 | 7m 30s | 160,725 | 3.000 | 2.000 | Single Shot | 1/Sec | Defenses | Ground | 1.125 | 140 | 20 |
Gallery
See Also