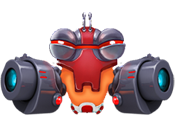 "

"We are Starlinators, the best trained Starlings you'll ever see. You have to be very careful, we might harm you if you get too close!"
Heavy unit. Specialized in destroying enemy defenses.

"



 

— in-game description 
About

This unit can also be crafted by completing its Collection.
Second most powerful infantry in the game, after the Green Beret.
Craftable.
Easily destroyed by Mortars and Laser Tower.
Short range, easily comes into the range of turrets.
Expensive. Exponential cost increase from level to level.
Tips
Expansions

To see detailed info of how to unlock each level, visit Troop Level Unlocks
on Laboratory's Page.
| Level | | | | | | | | | | | |
| --- | --- | --- | --- | --- | --- | --- | --- | --- | --- | --- | --- |
| 1 | 7m 30s | 18,600 | 1,200 | 600 | Single Shot | 0.8/Sec | Defenses | Ground | 0.75 | 140 | 20 |
| 2 | 7m 30s | 33,500 | 1.500 | 750 | Single Shot | 0.8/Sec | Defenses | Ground | 0.75 | 140 | 20 |
| 3 | 7m 30s | 50,200 | 1.500 | 900 | Single Shot | 0.8/Sec | Defenses | Ground | 0.75 | 140 | 20 |
| 4 | 7m 30s | 65,100 | 1.800 | 900 | Single Shot | 1/Sec | Defenses | Ground | 1.125 | 140 | 20 |
| 5 | 7m 30s | 83,350 | 1.800 | 1.200 | Single Shot | 1/Sec | Defenses | Ground | 1.125 | 140 | 20 |
| 6 | 7m 30s | 107,150 | 2.000 | 1.500 | Single Shot | 1/Sec | Defenses | Ground | 1.125 | 140 | 20 |
| 7 | 7m 30s | 160,725 | 3.000 | 2.000 | Single Shot | 1/Sec | Defenses | Ground | 1.125 | 140 | 20 |
Gallery
See Also