Ad blocker interference detected!
Wikia is a free-to-use site that makes money from advertising. We have a modified experience for viewers using ad blockers

Wikia is not accessible if you've made further modifications. Remove the custom ad blocker rule(s) and the page will load as expected.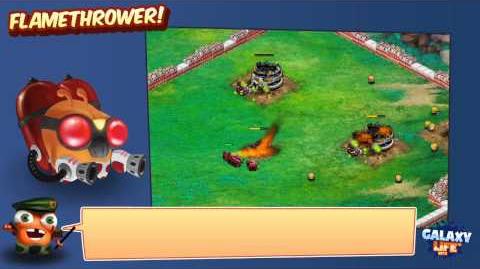 "

"We are ambidextrous. And that is just awesome.Two hoses expelling fire are permanently attached to our arms. You want some roasted marshmallows? Call us! You want to get rid of Firebit ? We'll do it in no time!"
Short-range heavy unit specialized in taking down defenses. Needs to be very close to the target to start firing.

"



 

— in-game description 
Traduzione Italiana
Queste unità sono i lanciafiamme,essi vanno sulle torrette e gli sparano fuoco con i loro due manicotti attaccati alle loro braccia e cercano di distruggerli.Le possibilità di distruggere una torretta con i lanciafiamme sono un pò minime però se gli hai ponteziati bene e se sono molti forse c'è la puoi fare,in più queste unità sparano solo a terra.
Tips
This unit is therogically your strongest units when you haven't unlocked the Bazooka etc.
A level 2-3 Marine is just as useful as a flamethrower if not more so.
When you unlock the Starlinators which also goes for defenses then your usage of the flamethrower becomes barely anything and it drizzles into a cheap unit to use when you're running out of coins.
If you do use them make sure you have lots of them as they are defeated very quickly because they have to be very close to the turrets before begin firing.
Flamethrowers can cover lots of ground but remember, they are very weak against turrets when flamethrowers are in small numbers so remember to bring large numbers of them to battle. Their Warp Gate size is a great advantage, only size 10 like the marine.
Their range is also very crippling, they will very easily get in range of bunkers and Mortar and get pummeled.
When they are deployed in high numbers, they can be a devastating force to any structure, but are easily demolished if not deployed right, for example: 30 level 3 flamethrowers + 1 level 4 cannon blast = 1 level 4 cannon blast
These units also have large health pool compare to newbies (level 3-7).Although Superflamethrowers (level 7) have higher health than (level 1) Starlinator,but when Superflamethrowers versus (level 1) Starlinator,it will also lose because Starlinator is a high-damage Infantry unit.
They are weak against mortar,don't expect them survive 1 or 2 mortar shots!
if it used in bunkers on lvl 30+ they get easily killed by other units aspect lower levels because on lvl 30+ many players have a lvl 5 base so they have strong mechanical and starport units so be aware
they are not used anymore if the player reaches lvl 20 because he,s have very strong units like raiders and s-trikes.
Expansions

To see detailed info of how to unlock each level, visit Troop Level Unlocks
on Laboratory's Page.
| Level | | | | | | | | | | | |
| --- | --- | --- | --- | --- | --- | --- | --- | --- | --- | --- | --- |
| 1 | 18s | 250 | 500 | 50 | Single shot | 1.42/Sec | Defenses | Ground | 0.75 | 60 | 10 |
| 2 | 36s | 500 | 500 | 60 | Single shot | 1.42/Sec | Defenses | Ground | 0.75 | 60 | 10 |
| 3 | 36s | 800 | 600 | 60 | Single shot | 1.42/Sec | Defenses | Ground | 0.75 | 60 | 10 |
| 4 | 36s | 1,100 | 600 | 70 | Single shot | 1.42/Sec | Defenses | Ground | 0.75 | 60 | 10 |
| 5 | 36s | 1,400 | 700 | 70 | Single shot | 1.42/Sec | Defenses | Ground | 0.75 | 60 | 10 |
| 6 | 36s | 1,850 | 700 | 80 | Single shot | 1.42/Sec | Defenses | Ground | 0.75 | 60 | 10 |
| 7 | 36s | 6,800 | 1400 | 120 | Single shot | 1.42/Sec | Defenses | Ground | 0.75 | 60 | 10 |
Animated Photo
Gallery
See Also