"

Decorations are purely cosmetic, they provide no income, neither coins nor minerals. Some decorations can be clicked on (the swing, the treadmill, the elastic bed and the horsie) and the Starlings will go and play on that decoration.

"



 

— general description 
Tips
Decorations can't be used as walls.
They do occupy space in the field grid.
They cannot be placed on top of other buildings.
They cannot be destroyed during attacks.
Actual Decorations
"Just a little push and you can get very high!!"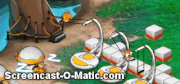 The Swing is a part of the Decorations, Starlings can play on it.

The Mana Well is one of the newest decorations in Galaxy Life. It takes up one square and is available to all users.

The Glutton Plant looks like a Fly Trap on earth, but this is in a distant galaxy. It takes up one square and is available to all users.
"Young Starlings love to train their rodeo abilities on pink horses!!"
Discontinued Decorations
The Ancestor, Focus God and Elastic Bed are all now Discontinued Decorations. They were removed after Game Update 0.77.4.
After November 27 2014, you can buy them with chips.


Starlings remember their ancestors that looked like these.
Starlings need something to focus on before going into battle.
Ad blocker interference detected!
Wikia is a free-to-use site that makes money from advertising. We have a modified experience for viewers using ad blockers

Wikia is not accessible if you've made further modifications. Remove the custom ad blocker rule(s) and the page will load as expected.