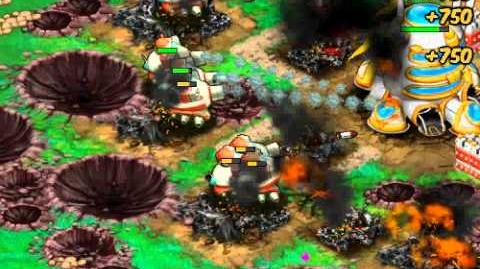 "

"We are not wearing a costume! This is a real tank-shaped armor that allows us to attack all our enemies' buildings! Try it out!"

"



 

— in-game description 
About

This unit can be crafted by completing its Collection.
Strongest ground unit, large range of attack, large HP pool, equipped with homing missiles.
Only unit that can match the Bazooka's range of attack.
At level one, it can easily take a level 1-12 player on it's own before dying
Easily takes down Falcons, S-Trikes in groups, along with any other units in the game, even against colossus themselves.
Even with it's large pool of health, these units can still get destroyed by some well-placed turrets, mainly mortars.
At levels 6 and above Colossus are a fairly quick unit!
Star Base Level 7 and 15,998,920 is required to unlock it.
Colossi usually replace earlier units like Starlinator and Falcon due to higher damage and health, although they are slow, so combining them with other units works better on some bases.
Tips
Mortars can easily take out a Colossus or two, even a group if the colosus if the level aren't too high! Be sure to space them out when you deploy them into a battle.
Colossus are slow, so be sure to send units for supporting them such as Zeppelin,Starlinator and more. 
Because they are slow, make sure that you avoid freeze turrets or the battle will end before you'e even had a chance to use the colossus' full power!
The best way to stop Colossus is a bunker filled with more Colossus, remember falcons are easliy destroyed by bazookas and the colossus is the tank version of the brilliant infantry unit, and a much more powerful version at that...
Good especially when copuled with Starlinators. While the Colossus take all the damage, Starlinators send turrets to ruin!
They are good in bunkers,because they can stop almost any units' attack (except special attack) from other players. Keep in mind they are not invincible!
Colossus is a more advanced mechanical version of Bettle Tank.
Make sure you have more than 4 colossi for attacking unless you are attacking a low-level base.
In a fight, the Colossus bother you in Bunkers? No worries, to destroy all the Colossus inside a Bunker, it is simple:      - Put a enought Colossus far the tower and the buildings but rather close to the reach of the Bunker.          - When Colossus enemies arrives on your Colossus, deploy 3 Colossus extremely taken away one in the others but behind the first Colossus, and 1 Colossus on each side of the first Colossus. If you succeed effectively, he will be enough for you less 8 Colossus by Bunker!           
Expansions

To see detailed info of how to unlock each level, visit Troop Level Unlocks
on Laboratory's Page.
| Level | | | | | | | | | | | |
| --- | --- | --- | --- | --- | --- | --- | --- | --- | --- | --- | --- |
| 1 | 25m 00s | 74,400 | 12000 | 1500 | Area Blast | 0.8/Sec | Anything | All Units | 0.45 | 200 | 40 |
| 2 | 25m 00s | 93,000 | 13500 | 1500 | Area Blast | 0.8/Sec | Anything | All Units | 0.45 | 200 | 40 |
| 3 | 25m 00s | 111,600 | 13500 | 1500 | Area Blast | 0.8/Sec | Anything | All Units | 0.6 | 200 | 40 |
| 4 | 25m 00s | 130,200 | 13500 | 2000 | Area Blast | 0.8/Sec | Anything | All Units | 0.6 | 200 | 40 |
| 5 | 25m 00s | 148,800 | 15000 | 2000 | Area Blast | 0.8/Sec | Anything | All Units | 0.75 | 200 | 40 |
| 6 | 25m 00s | 176,700 | 15000 | 2000 | Area Blast | 1/Sec | Anything | All Units | 0.75 | 200 | 40 |
| 7 | 25m 00s | 212,040 | 17000 | 2500 | Area Blast | 1.11/Sec | Anything | All Units | 0.75 | 200 | 40 |
Gallery
See Also