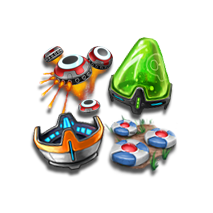 Description
You can find your collections in the My Stuff Box located under the Shop. They are in the "Collections" Tab. There are exactly 5 collections and every one of them has 5 items that need to be found to complete them. From Collections you can get: Blue Traps, FlyTraps, Starlinator, Colossus, Zeppelin and the two new recently added items: Cristal Fluid and Fission Device, that are needed to craft The Skull Nuke battle support weapon.
Collection Items List
Discontinued Collection Items List
Trivia
Fixed a bug that prevented some collectible items to appear in enemy bases.
See Also
Ad blocker interference detected!
Wikia is a free-to-use site that makes money from advertising. We have a modified experience for viewers using ad blockers

Wikia is not accessible if you've made further modifications. Remove the custom ad blocker rule(s) and the page will load as expected.